Anna Thibeault
Course Director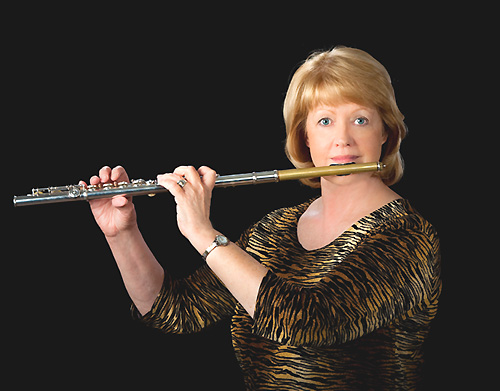 Anna Thibeault started the flute courses at the Wildacres Retreat in 1978 and continued to run them until she moved to England in 1984. She returned to the USA in 2002 and again took over the course, now called the Wildacres Flute Retreat. She loves organizing courses and hopes to continue doing this for many more years.
A native of California, she began playing the flute in seventh grade. Her mother signed her up for band and flute lessons, for which she was not particularly enthusiastic. She did fancy the marching band uniforms and thought that to march in the Pomona, California Christmas parade would be a really cool thing to do. A couple of years later she discovered she really did love music.
Both her parents were pianists and all three older sisters played musical instruments or sang. Having heard music in the house from day one, she got on with learning the flute rather quickly with the help of her wonderful teacher, Joanne Bourquin.
Many more great teachers helped her along the flute-playing highway. She studied with Paul Renzi, Principal Flute of the San Francisco Symphony; Walfrid Kujala, piccoloist with the Chicago Symphony; Albert Tipton, Principal Flute of the Detroit Symphony; and Geoffrey Gilbert.
Flute masterclasses played a big part in Anna's life. The first was a week-long class at Lake Tahoe with Julius Baker. Something big happened there on a sub-conscious level. "When I went back to school the next fall, my teacher thought I must have practiced eight hours a day all summer, as I had improved so much. I hadn't, but being in the proximity of Julie Baker for a week of intensive flute playing had caused me to leap forward. I didn't even know it had happened until I started playing again. This is what I hope would happen to people who attend Wildacres."
Many more masterclasses were to follow and Anna discovered that she learned as much from listening to other people being taught as she did by actually standing up and playing herself. These classes also were crucial in her learning to be an effective teacher.
Anna taught at Georgia State University for twelve years before moving to England, taught for twelve years at the Roehampton Institute in London, taught for two years at West Georgia University and nine years at Georgia Southern University. She has been a freelance player all her adult life.
Anna and her husband, Thomas, have started a book publishing company, Ridgetop Press, which publishes his historical novels. "Balto's Nose" was launched in November of 2011, "The Man Who Stole Himself " came out in 2013, and "Fake" was published in 2016.
They have fulfilled their dream to live in the mountains of western North Carolina, buying a house in Maggie Valley big enough for themselves and their 12 feline children.

Back to the Main Page