Göran Marcusson
Masterclasses and Morning Warm Ups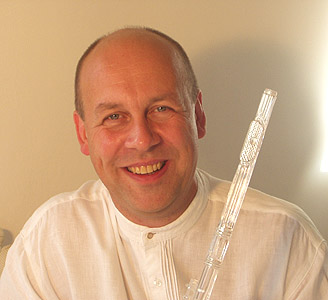 Göran Marcusson burst onto the American flute scene in 1987, winning the National Flute Association's Young Artist Competition. Soon after he won an award at Crussellweek in Finland and in 1991, a prize at the Bodensee Music Competition. In 1992, the same year he received his Soloist Diploma from the University of Gothenberg, he received a prize at the Vienna Music Competition and was awarded a handmade flute of Waterford Crystal for his outstanding performance in the masterclass of James Galway. This was followed by a duo-performance on television with Mr. Galway.
Mr. Marcusson's CDs have received rave reviews and include The Nordic Flute with the Camerata Roman, The Swedish Romantic Flute with the strings of the Gothenburg Symphony Orchestra, American Sonatas with his duo-partner, Joakim Kalhed, Reflective Flute with the GoteborgsMusiken, which includes both light and jazz selections, and his latest CD, Inspiration by Bach with the Camerata Calluna. Highly versatile and interested in his native Swedish music, he has introduced many new pieces into the American flutists' repertoire.
At home in Sweden he plays with the GotesborgsMusiken Chamber Ensemble and manages to keep a busy international schedule, giving solo appearances and masterclasses in the USA, South America and throughout Europe. He is renowned for his stunning performances and sympathic teaching along with his interest in renovating old buildings and furniture.
This year at Wildacres Göran Marcusson will lead the Morning Warm Up - Technique class, as well as masterclasses in the mornings and evenings. You can read more about him on his website: http://www.goranmarcusson.com.
Videos

Back to the Main Page