Lillian Pearson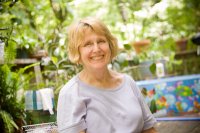 Pianist, Lillian Buss Pearson, has appeared throughout the continental United States, England, Costa Rica and China as a soloist and collaborative artist. She is also certified as a teacher of the Alexander Technique. An active musician in western Massachusetts, she holds positions at the University of MA-Amherst and at Westfield State College. Prior to moving to New England in 2007, she was the head of the keyboard area at Western Carolina University, North Carolina. Dr. Pearson holds degrees from Florida State University and the University of Illinois, her principal teacher being the Hungarian trained pianist Edward Kilenyi. Her interest in historically informed performance practice has led her also to study harpsichord and fortepiano.
Lillian is the official pianist at the International Flute Festival in Costa Rica where she has performed the past five years. In October, 2008 she appeared in Weill Recital Hall, NYC, in a concert of four international flutists. On numerous occasions she has had opportunity to collaborate with internationally known artists. Pearsonís solo orchestral appearances include performances with the Jacksonville Symphony (FL), the Asheville Symphony (NC), the Breckenridge Festival Orchestra (CO), the Western Carolina Civic Orchestra (NC), the National Chamber Players (NC), and the Brandenburg Ensemble (FL). For many years she was a member of the Breckenridge Music Festival and the Cullowhee Summer Music Festival. She has served as an accompanist for many conferences and workshops.
Dr. Pearson has actively pursued training in Alexander Technique for over 15 years, including a sabbatical leave in 1997 to study in England with Nelly Ben-Or, pianist and teacher of the Alexander Technique and member of the faculty at the Guildhall School of Music and Drama. In 2007, Lillian moved to Massachusetts to pursue training and is now certified as a teacher of the Alexander Technique. She is especially interested in the integration of Alexander Technique with musical performance.
Lillian will be available for Alexander Technique lessons during the week at Wildacres.

Back to the Main Page